I just found out that I am being featured on
The Best Of Zazzle Weekly Squidoo Lens
. This lens is created from kasei_lee from Zazzle.
This is straight from the squidoo lens:

Showcasing original art, photography and design at Zazzle.com
The Best of Zazzle Weekly showcases some of the best original art,
photography
and design on zazzle.com.
Each week, this lens lists roughly 30-35 great products with designs by talented
artists
from all over the globe.
A weekly 'featured artist' is also spotlighted, in the hopes that more people will become aware of their awesome talent.
If you would like to see more of what these artists have to offer simply click on their names on the product page, to be taken to their zazzle stores.
Click
Here
to go to the Squidoo Page
***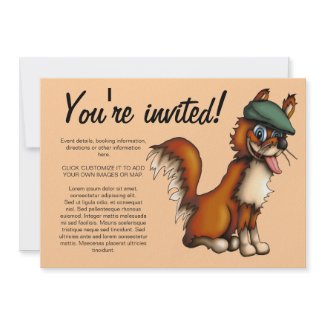 Farmer Fox, invitation
by
kasei_lee
Buy
invitations
at zazzle
kasei_lee's
real name is Lee Leplaw Deichmann and her shop's name is '
Lee Lee and the Bee
', I love that name, Lee Lee and the Bee!
Here's a little about her from her About page on zazzle:
"Describes themself as:
I'm an australian woman living in Denmark with my very lovely danish archaeologist husband and our mad, psychotic street kitten, Kalimah.
I have been creating art for as long as I can remember, and hopefully will be doing so for a long time to come. Most of my works at Lee Lee and the Bee are digital pieces, or traditional pieces reworked slightly in some form of illustration program.
Photography is a passion of mine also, even though I'm not very good at it. I just point the camera at things that interest me and go click. It usually works our for the best :)"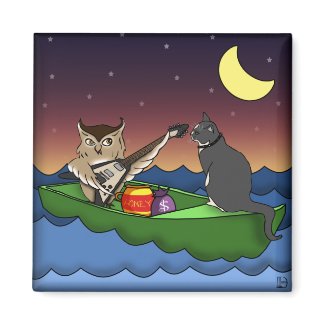 Owl Plus Pussycat, magnet
by
kasei_lee
Design
custom magnets
at zazzle
You can follow her on
Facebook
, www.facebook.com/LeeLeeandtheBee
Twitter
, her
Blog
, and Lee's
My Space
page. I did. : )
Lobster Claus, greeting card
by
kasei_lee
Shop for another
greeting card
on zazzle.com