Sorry if this is a repeat for some of you. I am trying to tie my newsletters with my blog and my goal is to write a monthly newsletter.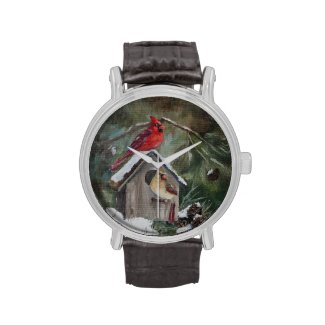 Cardinals on Snowy Birdhouse Wrist Watches
by
bmthour
View Cardinals Watches online at
zazzle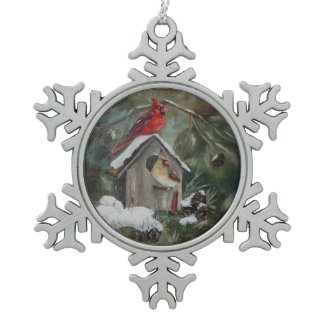 Cardinals on Snowy Birdhouse Ornament by bmthour
Home Sweet Home
I can hardly believe it's December already. I hope this season finds you and yours well.
The idea for this years' Christmas painting came to me when I was doing a Commission for a very sweet lady as a Christmas gift. It was of a snowman family (which I can't show until after Christmas). In the painting she wanted a male and female cardinal perched on a birdhouse in a tree. I was really loving how that part was turning out, and that's how Home Sweet Home came to be. Home Sweet Home is an 8x10" oil painting on black canvas, and I love how it turned out! That's right, I said black canvas. If interested in seeing the original you can find it in my Etsy Shop. Useful, fun and unique Home Sweet Home gifts can be founnd in my Zazzle Shop and CafePress Shop.

If you are interested in having a commissioned piece done just email me at bmthour@comcast.net.
MY Big News
Back in October I decided to quit my part time job after 16 years and become a full time Artist. I am loving that I can dedicate all my time to my artwork and not be too exhausted to do it.
Home Sweet Home Sweatshirt on CafePress
Click on the link below to go to page


Until next time, I Wish you a very
Merry Christmas and a Blessed and Happy New Year!
Brenda Thour aka luvs2paint



visit my

blog




follow me on

Twitter




become a fan on

Facebook
http://www.facebook.com/brendathourart